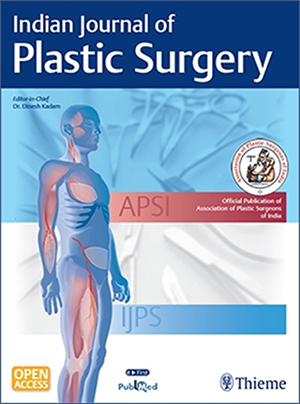 Indian Journal of Plastic Surgery
(ISSN : 0970-0358 & eISSN 1998-376X)
Official publication of the Association of Plastic Surgeons of India.
Published quarterly- Jan/April/July/October
Editor-in-Chief: Dr. Dinesh Kadam
The Indian Journal of Plastic Surgery (IJPS) is the official journal of the Association of Plastic Surgeons of India. Published since 1968, the journal is one of the leading plastic surgery journals in South-East Asia and the international community.
Published by The Thieme Medical Publisher, theIJPS focuses on publishing high-quality original investigations, clinical and experimental studies, and reviews addressing various aspects including reconstructive surgery, aesthetic surgery, craniomaxillofacial surgery, microsurgery, Hand, Brachial Plexus and peripheral nerve surgery, Oncological reconstruction, surgery for external genitalia, emerging surgical techniques, innovations, epidemiological studies and more.
IJPS Publishes e First articles upon acceptance, prior to the issue publication and ahead of the print.
Abstracting and indexing:
IJPS requires that authors follow the ICMJE (International Committee of Medical Journal Editors) recommendations for the Conduct, Reporting, Editing, and Publication of Scholarly work in Medical Journals. More information can be found here: http://www.icmje.org

This journal is published under the Creative Commons license CC BY-NC-ND Attribution-NonCommercial-NoDerivatives)
The ethics statements for the Indian Journal of Plastic Surgery are based on the Committee of Publication Ethics (COPE) Best Practice Guidelines for Journal Editors (https://publicationethics.org/).
Editor-in-Chief:
Dr. Dinesh Kadam
Prof & Head, Dept of Plastic Surgery
AJ Institute of Medical Sciences, Kuntikana,
Mangalore-575004, India.
drkadam2@gmail.com
Publisher:

The Thieme Medical and Scientific Publisher
Delhi-Stuttgart-New York-Rio de Janeiro